Having a beautiful smile is a universal desire. Your smile helps form a first impression when meeting new people, and you want it to represent you well. However, we see many patients at Taylor General and Cosmetic Dentistry with concerns about their smile. There are several ways to improve your smile, and we want to provide you with helpful information regarding the difference between crowns vs. veneers.
What Are Veneers and Crowns?
Veneers and crowns both fall under the category of dental restoration. Both work as a covering to existing teeth for improvement aesthetically and functionally. The biggest difference between veneers and crowns is how much of the original tooth remains as well as how thick the material is that covers the tooth.
A veneer is a very thin porcelain piece bonded to the front of the tooth. The porcelain is carefully color-matched to your natural teeth. Veneers have significant strength but are also somewhat delicate. Should the teeth undergo significant impact, veneers can become dislodged or cracked.
With a crown, the entire tooth is encased. Crowns may consist of metal, porcelain, or a combination of both. A crown is approximately twice the thickness of a veneer, enabling more resistence to impact or cracking.
Tooth Prep with Veneers and Crowns
To have veneers implanted is less invasive than crowns because less of the natural tooth is removed. In our practice, we only remove a thin layer of the tooth enamel from the tooth's front. The core and back of the tooth are usually not impacted. In some situations, more aggressive trimming may be necessary if part of the objective is to straighten the teeth. Crowns take more work, as up to 75% of the existing tooth may be eliminated so it's more time intensive.
When Are Veneers the Best Option?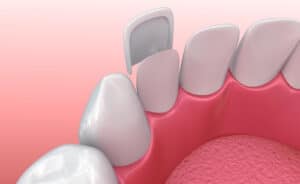 Veneers are a great choice for correcting stained, chipped teeth, minor cracks, gaps, and slight misalignment. In these circumstances, veneers improve the color and overall consistency in appearance. You should keep in mind that living with veneers requires future maintenance. You may at times need a replacement, however, veneers are permanent.
When Are Crowns the Best Option?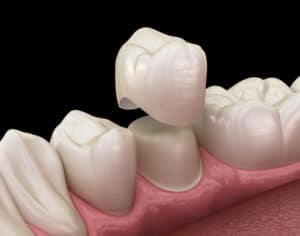 Should you have more significant issues with your teeth, crowns may be a better form of treatment. Crowns help correct teeth that are broken or cracked as well as areas where root canals were necessary. They are better for maintaining the structural integrity of a tooth that has been badly damaged. The crown helps keep the tooth intact, protecting it from any future damage that could lead to extraction.
Schedule an appointment with our office to talk about your options and help you achieve the smile of your dreams. If you're considering either of these procedures to enhance your smile, we're happy to educate you on your options, including other options you may not have yet considered.