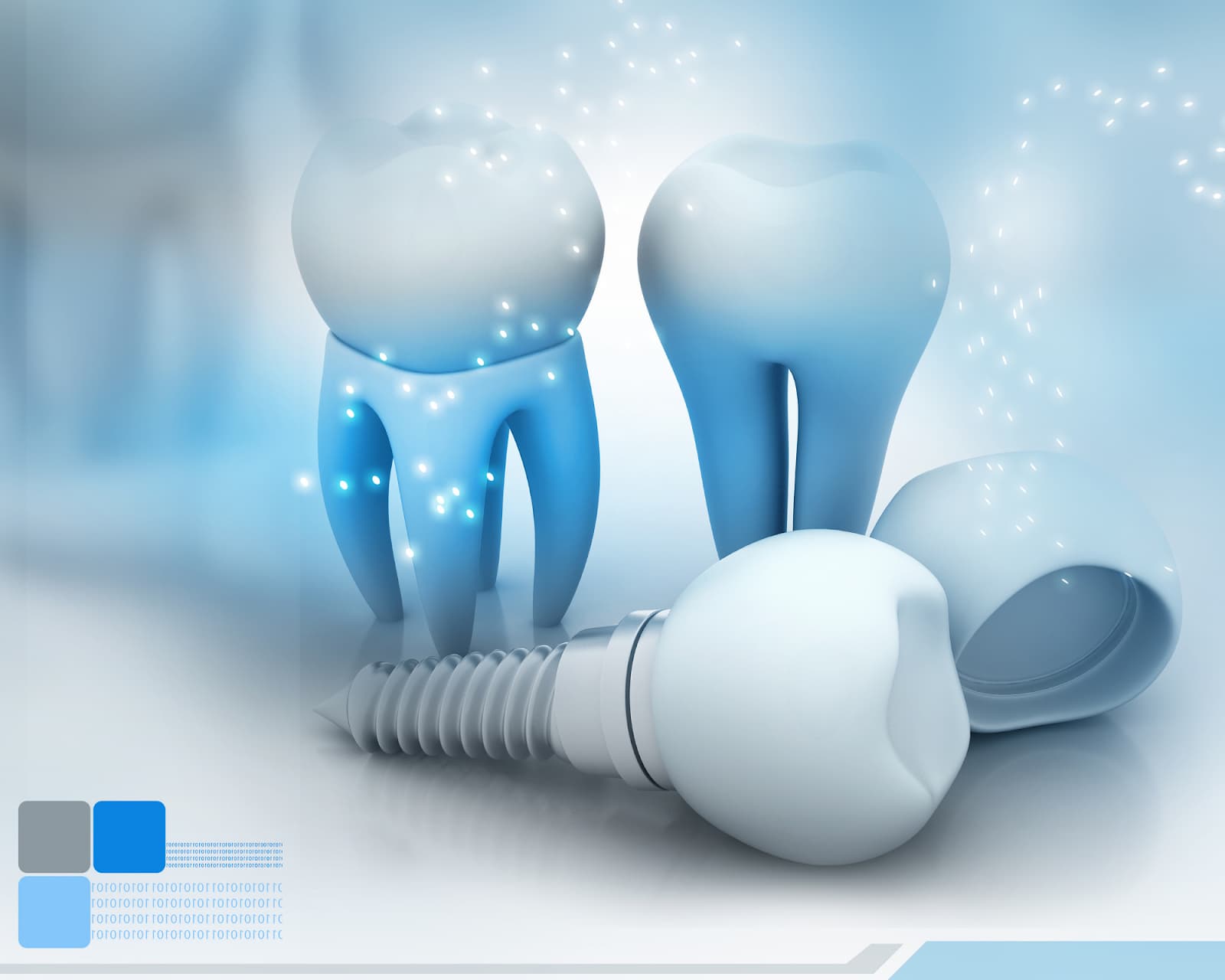 Missing a tooth? Fortunately missing a tooth doesn't have to permanently hinder your smile. Today, dental implants and bridges are great options for replacing teeth and getting your smile back to its best. While they essentially provide similar things like replacing a missing tooth, restoring chewing function, and improving your smile, they do so in different ways.
Wondering which option could be best for you? This article will help you better understand dental implants and bridges and the differences between them.
Dental Bridge…What Is It?
A dental bridge is usually made of porcelain and spans over several teeth. Typically each tooth on either side of the missing tooth is included on the bridge, but sometimes it is not. If the bridge only involves one tooth next to the missing tooth, it is often referred to as a cantilever bridge.
The cantilever bridge isn't as strong as the bridge that spans over the missing tooth and includes teeth on each side. So, when possible, it is best to have support on both sides of the missing tooth as this provides better stability for chewing.
The Challenge With Dental Bridges
There are a few challenges when it comes to dental bridges. First, they can be a challenge to clean. Flossing around and under your dental bridge is very important as food and bacteria can hide out in these areas. Routinely visiting your dentist for cleanings and exams is essential for the long term health of your bridge.
Due to your dental bridge being attached to your existing teeth, it is crucial to keep these areas extra clean so you don't get decay. Decaying around an existing bridge usually means it needs to be redone.
Second, dental bridges can affect healthy teeth around them. If you are missing a front tooth and decide to get a bridge, you may also be putting crowns on perfectly healthy teeth on either side of the missing tooth. Sometimes the teeth next to the missing tooth aren't in great condition and benefit from needing to be part of the bridge.
Third, dental bridges are an investment of both time and money. Typically a dental bridge is a similar financial investment to that of a few crowns. It usually requires two dental appointments, one to prep the area and one to cement the bridge.
Dental Implants…What Are They?
A dental implant is a post, usually made of titanium, surgically put into your jawbone to replace a missing tooth. Following surgery and healing, a crown is attached to the titanium post to restore daily function.
What Are The Benefits Of Dental Implants?
Dental implants act like a normal tooth in that they have a "root" and a "crown." While implants restore chewing function and esthetics, they offer more benefits than a dental bridge.
They have a low failure rate as they are titanium and can't decay. An infection or gum disease around the implant could cause it to fail, although this is unlikely if homecare is good.
Dental implants also maintain bone levels where the tooth was once missing.
What Are The Challenges Of Dental Implants?
Similar to a dental bridge, dental implants require an investment of time and money.
The process of getting a dental implant requires more healing time than a bridge does. Following implant surgery, the bone needs about 3-4 months to heal before restoration can be added to the implant.
In need of a bridge or implant? We are here to help! Let us know what questions you have or schedule an appointment with our dentist and they can evaluate your situation and let you know which options would be best.