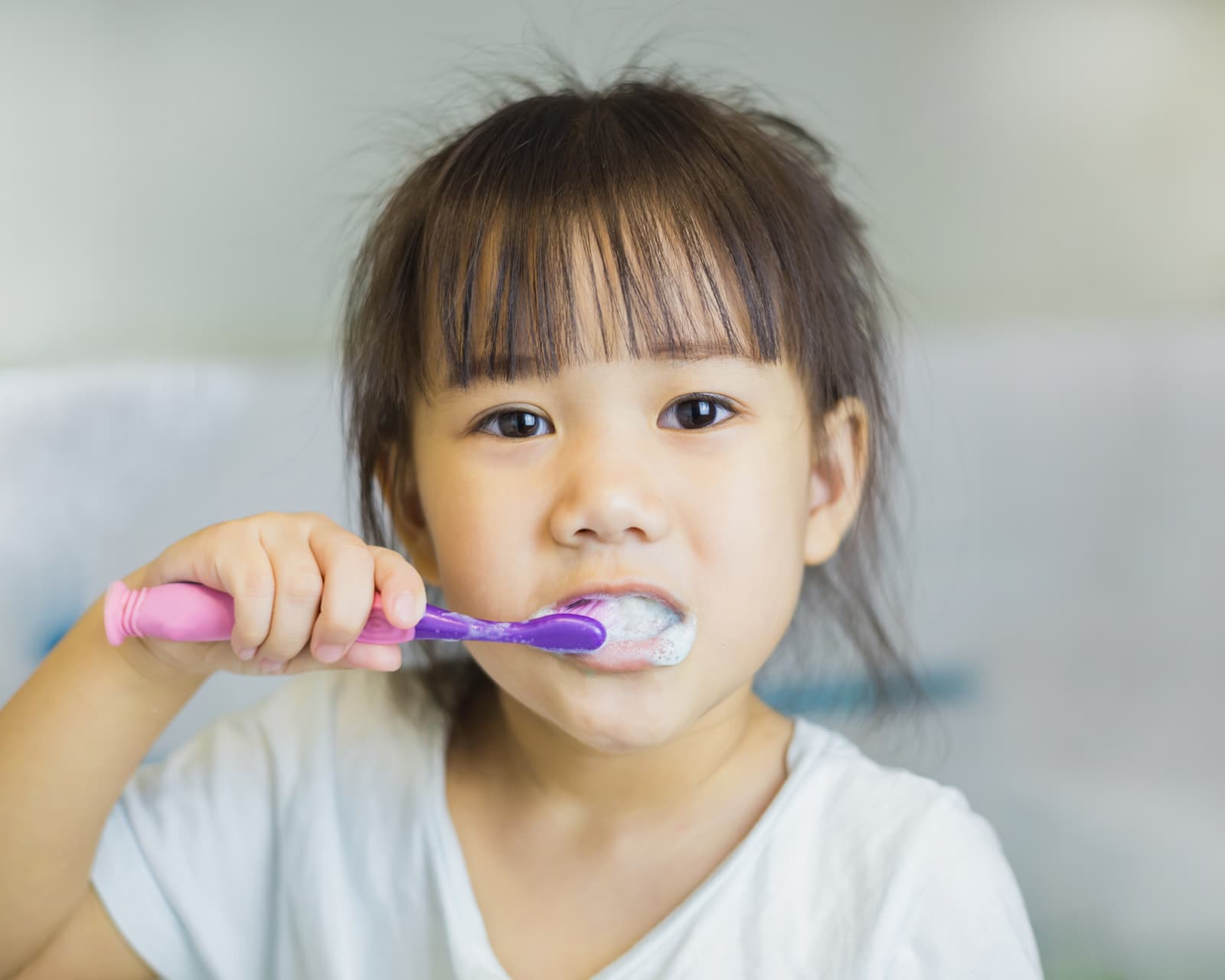 In dentistry, we see the importance of starting good brushing habits while young. We have seen the benefits of kids who learn good oral habits and how this impacts them as adults. Teaching your kids to brush daily helps make caring for their teeth part of their daily routines and everyday life.
Studies have shown that good habits formed as kids often carry into adulthood!
Monkey See, Monkey Do
It may be an old saying, but anyone with kids will probably nod their head about the truth behind this one. Our kids often mimic what they see us as parents doing. While this can cause us much trouble when we hear our child use a not-so-kind word that they heard us using, it can also be a good thing when our kids see us doing good things, and then they turn around and replicate it.
When you ask your kids to brush and floss their teeth, and then your kids see you brushing and flossing your teeth, it becomes evident that you are walking the talk.
Keep Brushing Positive
Sometimes getting our kids to brush can feel like a battle. Try keeping brushing their teeth positive. Some ways that you can keep things fun and lighthearted are:
Have your child sing their ABCs twice while brushing
Offer incentives – kids love stickers or extra time to do something that they love
Try an electric toothbrush
Let your child listen to their favorite song while they brush their teeth.
I'm Not Good About Brushing My Teeth, So How Do I Encourage My Kids Too?
It's never too late to start brushing, as the benefits of brushing are many. Even if you haven't taken the best care of your teeth, you can share this fact with your kids and let them know what you wish you would have done differently. Setting some good brushing habits for yourself now can also speak volumes to your kids; the best part is that they will benefit from this much earlier than you did.
Make Your Child's Teeth A Priority Even When They Are Young
Helping your child brush their teeth at home is essential, but there are other ways to be mindful of helping your child form good dental habits. Did you know that Dr. Rath sees kids at our dental office?
We love partnering with families to help get their children's dental health on the right foot. When your child visits Taylor Dental they are sure to get top-notch care:
Routine Dental Check-ups: Taking your child to the dentist is encouraged as soon as your child is one year old. This helps your child to become accustomed to visiting the dentist and also makes sure that your child's teeth are healthy.
Routine Dental Cleanings: Our hygienists love to educate and help kids feel confident about taking care of their teeth. Our hygienist greatly values being able to clean your child's teeth every six months, but they also don't discount the importance of teaching your child to care for their teeth every day of the week.
Fluoride Treatments: We offer in-office fluoride treatments to strengthen your child's teeth and reduce the risk of decay.
Sealants: Another preventive treatment that we offer for kids is sealants. Sealants provide a protective layer over your child's molar teeth so that food doesn't get stuck in these hard-to-reach areas.
It is never too late for your kids to form good dental habits and take ownership of brushing their teeth. Remember that keeping things positive is vital, as battling with your children about brushing their teeth may cause them to fight and resent it more.
If your child hasn't been to our office yet, Dr. Rath would love to meet them! We work hard to ensure our office is excellent for the whole family, children especially! If you would like to schedule an appointment, please give our office a call.