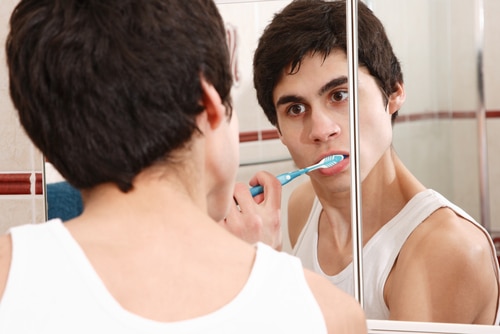 Does your teen struggle to make brushing their teeth a priority?
Perhaps you have noticed their awful breath. We understand that getting your teen to care about their health may feel like a major task, but don't lose hope. We have several tips to help you encourage them to see the importance and take responsibility in caring for their teeth.
Don't Hide The Consequences
One of the most motivating factors for doing something is understanding what will happen if you don't do that specific thing. When it comes to your teen's teeth, it's possible that they don't understand the short-term and long-term consequences of not taking care of them.
Rather than letting toothbrushing become a daily battle between you and your teen, we suggest you talk to them about the consequences of not brushing daily. Most teenagers are becoming more aware of their peers around them. During this age, they often start caring more about what other peers think of them. For some teens, the thought of offending others with their smelly breath is enough fear to get them to brush their teeth.
Other consequences that can result from teen's poor brushing habits include:
White spots, especially around braces brackets

Cavities

Gingivitis

Yellowing or staining of teeth
Lead By Example
Do you visit your dentist regularly? Teens are smart. They will probably notice if they see you dodging the dental office or developing lousy brushing habits.
Even though teens may act like they are so different from their parents, studies show that they still often follow their parent's example. If you want your teens to do something, try being an example for them to follow.
Admitting this to them can be a great place to start, even if you have yet to be the best example. From here, you could set goals along with your teen and encourage each other on the way to better habits!
Give Them Choices
While there are many decisions that teenagers aren't capable of making yet, there are also many that they can make. When it comes to caring for their teeth, giving them control of a few things may help them to feel empowered as they try to make better decisions in this area.
Let them pick out their own toothbrush and invest in an electric toothbrush for them. You could also let them pick out a toothpaste that they would like to try.
Offer Incentives
Are there certain activities that your teen loves? Every teen is different, but sometimes offering them more time to do something they love if they can be responsible for caring for their health and teeth can provide good motivation for them.
Would your teen be motivated by extra screen time or time with friends?
Download An Oral-Hygiene App
Did you know that there are oral-hygiene apps that can help your teen with things like toothbrush reminders and timers? Most teens these days have smartphones and love using apps. Ask your teen if they have ever used an oral-hygiene app, they might just be surprised that you know something about apps that they don't.
We know how challenging it can be to get your teen to care as much about their teeth as you do. Hopefully, these tips will help you find a positive way to encourage your teenager to take more responsibility when caring for their teeth.
Our dental team is knowledgeable and caring about educating patients of all ages. If you ever have questions or concerns about your teen's teeth, please don't hesitate to contact us at Taylor Dental.