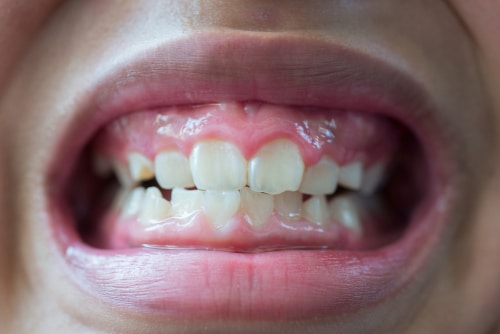 Did you know that enamel is the hardest substance in your body? Enamel is the outermost layer of your teeth and it provides a protective barrier from the softer material within your teeth. While cavities can cause wear and damage to your enamel, so can dental erosion.
Dental erosion and dental decay are not the same thing. Dental erosion is the loss of enamel caused by an acid attack such as acid reflux or diet. When the enamel is worn away by dental erosion it can lead to the dentin layer underneath your teeth to be exposed. Exposing the dentin layer may lead to pain and sensitivity.
What Can Lead To Dental Erosion?
Dental erosion is multifactorial. There are many different things that can contribute to dental erosion including:
Diet:

Many foods and drinks are acidic and can contribute to dental erosion. Some of the worst foods and drinks for erosion include citric fruits, pop, energy drinks, and sucking on hard candies.

Intrinsic factors:

Acidic reflux can cause dental erosion to occur on your teeth. The wear on your teeth is sometimes the first symptom that is noticed.

Medicines:

Certain medicines can lead to more problems with dental erosion. While medicines don't specifically cause dental erosion they can make the erosion worse due to many of them causing dry mouth. Your saliva acts as a barrier to your teeth in that it helps to neutralize your mouth from acidic things. With less saliva, dental erosion and dental decay increase.

Excessive vomiting:

Certain conditions such as eating disorders (bulimia) often show signs of dental erosion due to the teeth's high exposure to stomach acid.
What To Do To Treat Dental Erosion?
The treatment options for dental erosion really depend on how bad the erosion is and what your symptoms are.
Minor dental erosion may require no treatment or very minimal treatment such as a small filling. Major areas of dental erosion may require a crown. If needing treatment on several teeth or for a more permanent option for dental erosion, veneers may be a good choice. Your dentist can let you know what treatment is best for your certain situation.
How To Reduce Your Risk Of Dental Erosion?
There are several things that can be done to reduce your risk of dental erosion. Many of the options include neutralizing your mouth!
Water, Water, Water:

Drink water at mealtime and in between your meals. Water helps to flush out your mouth and it also helps to flush toxins from your entire body.

Chew Sugar-free Gum:

Chewing sugar-free gum can help to stimulate your salivary glands to release saliva. Saliva will help to lubricate your mouth and neutralize it. If you can't brush after a meal, chewing sugar-free gum is another option.

Rinse After Vomiting:

Rinsing your mouth with water or a sodium bicarbonate rinse after vomiting is a good idea to remove the acidity from your teeth.
Experiencing Sensitivity? Try This!
Tooth sensitivity is often one of the first symptoms of dental erosion to show up. As the enamel layer is worn away, the dentin layer underneath the enamel is exposed. This dentin layer is more sensitive to temperature changes as well as pressure.
If you notice this sensitivity when drinking hot or cold liquids or when brushing your teeth, try using sensitive toothpaste. Often a sensitive toothpaste can help to reduce sensitivity in areas where dentin is exposed.
In areas of dental erosion that require restoration, you will still need restoration. It's always best for you to have these areas evaluated by your dentist as they can help guide you in getting the best treatment for your teeth. Catching dental erosion in the early stages is always best as the most tooth structure possible can be preserved.