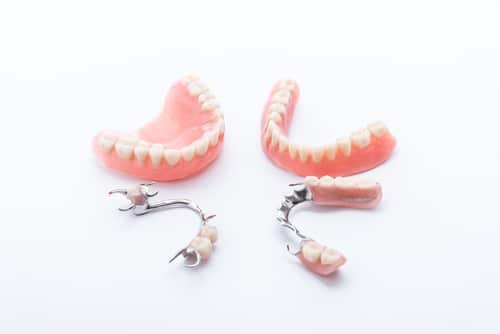 When it comes to replacing missing teeth, not all options are equal. Every dental procedure has its benefits and drawbacks. If you or a loved one is looking at replacing a missing tooth, this article is for you!
The Benefits Of Dentures
There are many benefits to choosing dentures to replace your missing teeth:
Dentures tend to be less expensive than implants

The delivery of a denture is a non-invasive appointment

They can be removed for easy cleaning

They restore your dignity, smile, and chewing function
The Benefits Of Implants
There are many benefits to choosing implants to replace your missing teeth:
Implants provide a long-term solution to your missing teeth as they are expected to last a lifetime

Dental implants look and feel the most like your natural teeth

Implants preserve the bone around the teeth from resorbing

Implants restore your dignity, smile, and chewing function
Your Investment
One of the first questions that we get from our patients regarding dental implants and dentures has to do with the investment. Usually, that question either comes in the form of how much does it cost or how much time does it take?
Typically a mid-range denture costs anywhere from $500 to $1500 for a single denture and $1000 to $3000 for a denture pair. Many different factors play into your denture investment such as if it is a full or partial denture or if it is an implant denture.
A typical dental implant ranges between $3500 and $7000. This range includes both the implant and a porcelain crown but it would be for only the replacement of one tooth. If multiple teeth are needing implants then you would multiply this estimate by that factor. Thus, when needing many teeth replaced, dentures may be a more financially fit option.
Getting Dentures
The process of getting dentures is relatively simple. First, you have a dental examination done. Your dentist will review your current dental state and make sure your supporting teeth are healthy and solid especially if you are having a partial denture made.
Following this evaluation appointment, you will again visit the office for impressions, pictures, and measurements. This information is gathered and sent off to a dental lab that will be working on building your dentures.
Once your dentures have been created, you will return for a try-in appointment. You will try on your new dentures and your dentist will make sure that they are comfortable and fit your gum tissue well.
Typically, we will have you wear your new dentures for a few weeks and then come back for one more appointment to double-check the fit of them and make sure that you're not experiencing any sore spots.
Getting Implants
Implants also involve an evaluation appointment in which x-rays are taken and your dental bone is evaluated. This is an important step in getting implants because if your bone isn't sufficient it could lead to an implant failing. Sometimes it is determined that a bone graft is needed prior to receiving a dental implant.
Once a dental implant is placed, it takes a full three to nine months for the jawbone to integrate and grow around the implant. During this time, the implant is not restored yet with a crown. Restoring an implant before it is supported by the bone could lead to implant failure.
Once the dentist has determined that the bone has healed up nicely around the implant, he will place the abutment. Additional time will be given for the tissue to heal around the abutment. After the tissue has healed, an impression will be taken of the area. This impression will be used to make the final crown that will soon be placed on the implant.
Once the crown is placed, your implant will function much as your old tooth did. Your smile, chewing, and talking functions are restored.
So you can see that there are benefits to both dental implants and neither one is always suitable for everyone. Choosing the right option will be unique to your needs. If you have a tooth that needs replacing, please reach out to our office. Our dental team is ready to help you restore your smile!
What is the difference between dentures vs dental implants? the cost is something to consider but what else do people need to know when they have had their teeth extracted and are looking for a solution?