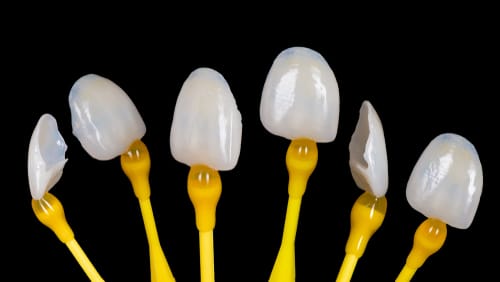 Are you looking to improve the appearance of your discolored or chipped teeth? Giving your teeth a new, fresh look is possible! Perhaps, no prep veneers are just the thing that may help you!
Veneers are a dental procedure that puts a thin layer over the face of your tooth. It helps to improve the appearance of your teeth which also helps to improve your overall smile and boost your confidence. There are two main types of veneers options, traditional veneers and no prep veneers.
Traditional Veneers
Traditional veneers are usually made from porcelain material. These veneers require taking impressions so that a dental lab can create a veneer to fit your exact tooth.
Porcelain veneers usually require your dentist to do some prep work on your natural tooth before placing the veneer. Your dentist may need to remove half a millimeter of tooth structure where the veneer is going to be.
Since your dentist will be doing some drilling on your natural tooth, it is likely that you will want to be numb for this appointment. This can help reduce sensitivity so that you don't feel any pain during the appointment.
This type of veneer lasts the longest but also requires the most investment for you as a patient. They do look amazing when they are done!
No Prep Veneers
No prep veneers also improve the appearance of your teeth and smile. These veneers are different from the traditional veneers because they don't actually alter your natural tooth structure. They don't require the prep work of shaving down your tooth so that the veneer will fit. Since these veneers fit directly on top of your natural tooth and no drilling will be needed, you probably won't need to be numbed up for the appointment.
The one drawback of no prep veneers is that they don't tend to last as long as traditional veneers. Typically no prep veneers last about 5 to 7 years. Around this time or after, they may show signs of the material breaking down.
A common thing that happens when no prep veneers are at the end of their life is that they will often pick up stains. These stains tend to show up more for those who consume dark beverages or food or who smoke. Limiting these habits can help reduce the risk of staining. If your veneers do end up staining this can be fixed by having the veneers redone.
The lifespan of these veneers is definitely something to consider. The investment for them can vary from office to office and is dependent on what brands your dental office uses. Talking these details over with your dental team can be helpful in choosing the option that makes the most sense for you.
Which Type Of Veneer Would I Be A Candidate For?
Most of the time, if you are a candidate for one type of veneer, you are also a candidate for the other type. If you are a good candidate for veneers, it will come down to you making a choice about which option you prefer.
The no prep option seems super convenient and perhaps less invasive, but that isn't the only option that you should consider. Considering the difference in procedure between the two veneers is definitely something to think about. Also, talking to your dental team about the cost difference between these two types of veneers may help you determine which one will be the best option for you.
If you're looking to improve the appearance of your smile, talk to one of our dentists about what options are available and they can help you get started!