Invisalign is a cosmetic dentistry procedure that continues to grow in popularity as more people want to experience the benefits of having straighter teeth. To enjoying the appearance of your teeth to having a more comfortable and aligned bite, there are many benefits to choosing Invisalign to correct your teeth.
If you are curious about Invisalign and whether or not it is a good fit for you, Taylor General & Cosmetic Dentistry is here to answer all your questions about Invisalign.
What Is Invisalign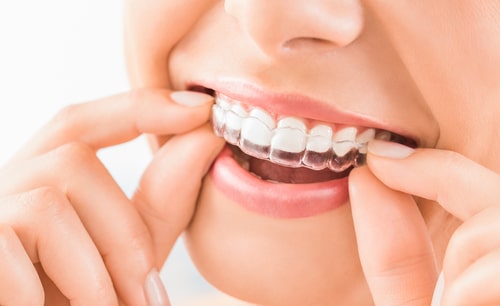 Invisalign is the name of the top, clear aligners currently available. Rather than deal with traditional braces with their brackets and wires, Invisalign aligners are clear and conform to the contours of your teeth while they work on changing the alignment of your teeth.
Whether you are an adult who doesn't want to deal with the muss and fuss of wearing traditional braces or you are considering Invisalign for your children, our dentist Dr. Rath can work with you on an effective treatment plan.
How Does Invisalign Work
While every Invisalign treatment plan is individualized, there are some basic steps in how Invisalign works to straighten your teeth.
Come in for a consultation with Dr. Rath. She will examine your teeth and assess if you are a good candidate for Invisalign and outline what Invisalign can do for you.
If Dr. Rath does determine you are a good candidate for Invisalign, she will perform a quick digital scan of your teeth. With this 3D scan of your teeth, she will map out your Invisalign treatment plan.
Based on your treatment plan, custom sets of clear aligners will be made for you. Once the first batch is ready, our dental office will contact you to pick them up.
Every six to eight weeks, pick up your new batch of aligners so that your teeth continue to re-align on schedule.
Go about your daily life! Aside from taking out your Invisalign aligners when you eat or drink, you can go about your everyday life with no real changes needed!
The length of your Invisalign treatment will depend on your dental alignment needs. During your consultation, Dr. Rath will give you a projected treatment duration outline. For further information on how the Invisalign process works see the video below:
Benefits Of Invisalign vs. Traditional Braces
If you are set on straightening your teeth but aren't sure if you should pursue Invisalign or traditional braces, you may want to consider these benefits of clear aligners over braces.
Invisible braces – With Invisalign, the alignment of your teeth is a nearly invisible process, as the clear aligners conform to your teeth. In comparison, there is no way to hide traditional braces, as the brackets and wire will always be highly visible.
No dietary changes – When it comes to traditional braces, there are several dietary restrictions that come with them, from the need to avoid sticky foods to having to cut back on carbonated drinks. But when you opt for Invisalign, you can eat and drink whatever you want. All you need to do is take out your aligners, enjoy your drinks and food, then brush your teeth before putting the Invisalign aligners back in.
Less invasive – Using Invisalign to align your teeth is far less invasive than traditional braces. Rather than having individual brackets cemented to your teeth, there are only two small, enamel-colored attachments that keep your top aligner in place.
Easy cleaning and maintenance – By choosing Invisalign, you can easily take care of your dental hygiene, as the clear aligners can be easily be taken out to brush and floss. In contrast, it can be difficult to clean effectively around traditional braces, as the brackets and wire make brushing and flossing far harder.
Lower chance of emergency – With protruding brackets and wires, traditional braces wearers run a higher risk of emergency visits to the dentist office if something dislodges the braces. Active teens and adults are particularly at risk of having issues with traditional braces. But when you choose Invisalign, you don't have to deal with the same worries, as the clear aligners are streamlined.
Minimal personal discomfort – There is a certain amount of discomfort with both styles of braces, as they are both causing your teeth to shift. However, with traditional braces, the brackets and wires can cut the inside of your mouth while there are no sharp edges to scrape you when you wear Invisalign.
Fewer clinic visits – With Invisalign, your visits to our dental clinic are reduced. You will only need to come in every six-to-eight weeks to pick up your new sets of clear aligners.
As you can see, there are a lot of benefits in choosing to straighten your teeth with Invisalign versus traditional braces.
How Much Does Invisalign Cost
The cost of Invisalign can vary significantly depending on your dental needs, ranging from $3,500 to $8,500. These prices are fairly comparable to traditional braces. If you are concerned about affording Invisalign, here are some ways you can pay for your treatment:
Insurance – Depending on your insurance provider, you could have a significant amount of your Invisalign treatment covered by insurance. Our dental clinic accepts a variety of insurance coverage, so it is worth discussing the matter with your provider and us.
Payment plans – As with other dental treatments here at our clinic in Billings, MT, we offer payment plan options. That way, you don't have to try to gather the full amount of your Invisalign treatment costs before you can start enjoying straighter teeth.
FSA or HSA – If you have a Flexible Spending Account or Health Savings Account, you can use them to help pay for your Invisalign treatment. Even better, you can pay out directly from these accounts, allowing you to access tax-free money.
Who Is a Good Candidate For Invisalign
Another common question that comes up with Invisalign is who is a good candidate for this type of invisible braces. Age-wise, pre-teens to adults can be excellent candidates for Invisalign. As for the types of treatable dental cases, here are some top types of issues that can be treated with clear aligners:
Underbite
Overbite
Gap teeth
Crowded teeth
Open bite
Crossbite
Mixed baby and permanent teeth
Also, if you generally have fairly straight teeth you would like to make perfectly even, Invisalign can easily help you reach your dream smile.
Preserving Your Smile After Finishing Invisalign
After all the time and effort you put into your Invisalign treatment, it makes sense that you want to preserve your straight, beautiful smile. And make no mistake, you do need to take steps if you want your teeth to remain straightened.
Our teeth have a tendency to shift over time, but you can halt this process by wearing a retainer. There are two retainer options Dr. Rath can offer you:
Fixed retainer – With a fixed retainer, our dentist will place a thin wire retainer behind your teeth, which will be affixed to your back teeth. They aren't visible when smiling and are not very noticeable even when talking. However, this type of retainer can take extra care to clean around and may come loose and require you to have it re-cemented into place.
Removable retainer – Often, at the end of Invisalign, you are offered a removable retainer option called Vivera. Like your Invisalign, these retainers are clear and can be easily taken out. At the start of wearing your Vivera retainers, you will wear them full-time like your Invisalign, though over time, our dentist will reduce your wear time until you only need to wear them at night.
Depending on your preferences and our dentist's recommendations, either of these options is likely to work for you and help preserve the straight smile you get when you use Invisalign.
Find Invisalign In Billings, MT
If you are interested in Invisalign treatments and live in Billings, MT, then you are in luck! Here at Taylor General & Cosmetic Dentistry, our dentist Dr. Rath now offers Invisalign.
To schedule your consultation and see if Invisalign is the right treatment for your dental needs, please contact us today to set up your appointment. We look forward to helping you achieve your dream smile!